School of Health Tech Minna Admission Form 2023/2024:Applications are invited from suitably qualified candidates for admission into the School of Health Technology Minna, Niger State Programmes for the 2023/2024 session.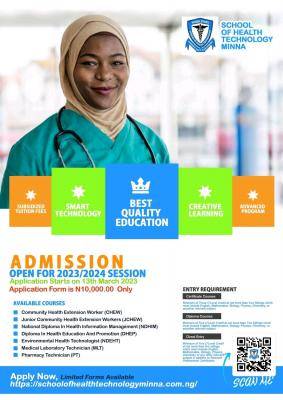 COURSES AVAILABLE
1. CERTIFICATE IN COMMUNITY HEALTH EXTENSION WORKER (JCHEW)
2. DIPLOMA COMMUNITY HEALTH EXTENSION WORKER (CHEW)
3. NATIONAL DIPLOMA IN HEALTH INFORMATION MANAGEMENT (NDHIM)
4. DIPLOMA IN HEALTH EDUCATION AND PROMOTION (DHEP)
5. MEDICAL LABORATORY TECHNICIAN (MLT)
6. PHARMACY TECHNICIAN (PT)
7. ENVIRONMENTAL HEALTH TECHNICIAN (EVT)
8. ENVIRONMENTAL HEALTH ASSISTANT (EHA)
HOW TO APPLY
1. Visit School of Health Technology Minna Website below.
SOHT Minna Portal:
https://www.schoolofhealthtechnologyminna.com.ng/
2. Click on the button "APPLY NOW correctly type your Name, Phone no and e-mail then click on the button "Pay Now' and continue with the preceding steps
3. If your payment is successful, your APPLICATION Nunber will be generated. Use a valid email address and phone no your application details will be sent
4. Fill in the various fields such as (date of birth, passport, state, nationality, etc) and dick on the button "SUBMIT
5. Finally click on the button "PRINT PROFILE" to print your Application Form.
READ ALSO: FUHSO Otukpo Admission List 2022/2023