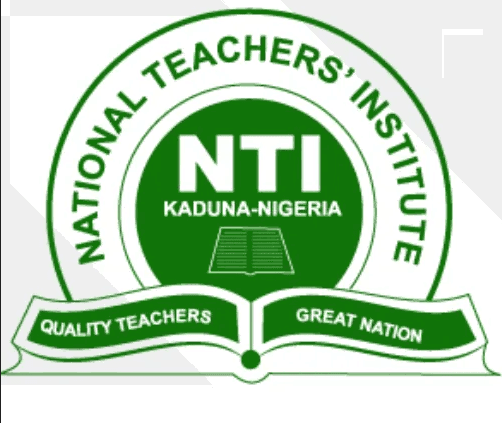 National Teachers Institute Admission Form 2022/2023 – National Teachers Institute (NTI) wishes to inform general public and interested candidates that the application into various programmes of the institution for the 2022/2023 academic session has started. Interested candidates should visit https://my.nti.edu.ng/ to fill the online admission form.
PROGRAMMES OFFERED BY NATIONAL TEACHERS INSTITUTE (NTI)
National Teachers Institute (NTI), offers the following programmes;
Post Graduate Diploma in Education (PGDE)
Bachelor's Degree Programme (B.Ed)
Nigeria Certificate in Education (NCE)
Advance Diploma in Education (ADE)
Pivotal Teacher Training Programme (PTTP)
Continuing Professional Development (CPD)
1. POST GRADUATE DIPLOMA IN EDUCATION (PGDE): This programme is designed for graduates of non Educational Certificates (B.Sc, B.A, HND etc) who are Teachers that do not have a professional teaching certificate but are  currently teaching or has the passion for teaching.
Requirements:
Applicants seeking for admission into the NTI Post Graduate Diploma in Education (PGDE) are required to posses a minimum of a Bachelor's Degree Certificate (B.Sc & B.A).
Higher National Diploma (HND) or its equivalent  in Languages, Social Sciences, Basic Sciences or other related disciplines.
Applicants should posses a minimum of Second Class Lower Division for Bachelor's Degree and Lower Credit for Higher National Diploma (HND) Certificate or its equivalents respectively.
Candidates must also meets the UTME requirements.
DURATION OF OF NTI PGDE PROGRAMME:
The Post Graduate Diploma in Education programme will cover 15 calendar months which consist 12 calendar months of lectures ( course work) and the three (3) remaining months for supervised internship (TP) in specially designed schools and colleges.
2. NATIONAL CERTIFICATE IN EDUCATION (NCE): This programme is the minimun qualification or requirement for Teaching as adopted by the National Policy on Education.
Requirements: 
Candidates are required to posses five (5) Credits in any of the below certificates . One of the Credit must be in the subject choose to make it a Teaching Subject for the programme.
Applicants must  posses Senior Secondary Certificate Examination SSCE (WAEC, NECO NABTEB)
Grade II Teacher's Certificate (TC-II)
Genal Certificate Examination (GCE)
Pivotal Teacher's Certificate (PTC)
Higher Islamic Studies Certificate (HISC)
DURATION OF NCE PROGRAMME:
This programme will cover three years with 2 year for lectures and 1 year for Teaching practice.
3.BACHELOR'S DEGREE PROGRAMME (B.ED)
4. ADVANCE DIPLOMA IN EDUCATION (ADE)
5. PIVOTAL TEACHER TRAINING PROGRAMME (PTTP)
6. CONTINUING PROFESSIONAL DEVELOPMENT DEVELOPMENT (CPD)
HOW TO APPLY
To apply for National Teachers Institute programmes for 2022/2023 academic session, follow the procedure below:
Applicants are expected to visit NTI website below to access the NTI portal, from the hompage click on "New Student Apply"
National Teachers Institute Website:
or
NTI Portal:
Click on "New Students Apply"  Tab to start the registration.
Applicants are expected create an account using aplicants personal informations, phone number and email address.
After successful creating of an account applicants should log in and continue with their registration.
The next stage is "Course Selection" where applicants are to choose their programme, Course of choice, state of residence and their prefered study center.
The next stage is payment of application fee. Applicants are expected to pay the sum of money for application according to their programme by generation RRR code and make a payment through REMITA.
After the succesful completion of the payment applicants should returned back to their registration account and continue with their registration.
After the filling of necessary informations, cross-check before submission of your application.
NTI Admission/Application Form Fee 2022/2023
1. NCE/ADE/PTTP Programmes – N2,500
2.B.Ed Programme – N5,500
3. PGDE Programme- N10,500
NTI Registration 2022/2023 Closing Date: Closing date for registration is around the month of March.
National Teachers Institute Study Centres: Candidates are expected to choose the study center of their choice during their applications.
NTI School Fees for PGDE Programme
1ST SEMESTER (N)

2ND SEMESTER (N)

100 LEVEL

Admission Form

5,500.00

–

Tuition Fee

56,000.00

50,000.00

200 LEVEL

Tuition Fee

50,000.00

50,000.00

300 LEVEL

DESCRIPTION

1ST SEMESTER (N)

2ND SEMESTER (N)

Tuition Fee

50,000.00

60,000.00

400 LEVEL

DESCRIPTION

1ST SEMESTER (N)

2ND SEMESTER (N)

Tuition Fee

60,000.00

60,000.00

OTHER FEES FOR BACHELORS' DEGREE

Academic Transcript (Excluding Courier Cost)

4,000.00
| | |
| --- | --- |
| Transfer Charges | 7,000.00 |
---
NTI ADE Programme School Fees
1ST SEMESTER (N)

2ND SEMESTER (N)

ADVANCED DIPLOMA IN EDUCATION (ADE)

Admission Form

2,500.00

–

Tuition Fee

39,000.00

38,000.00

OTHER FEES FOR ADVANCED DIPLOMA IN EDUCATION (ADE)

Late Registration Penalty Charges

4,000.00

Carry Over Charges for one/more papers

3,000.00
---
 PTTP NTI School Fees
1ST SEMESTER (N)

2ND SEMESTER (N)

Admission Form

2,500.00

–

Tuition Fee

19,000.00

24,000.00

OTHER FEES FOR PIVOTAL TEACHER TRAINING PROGRAMME (PTTP)

Resit Charge

3,000.00
Read Also: FCE Kano B.Ed Degree Supplementary Admission List 2022/2023