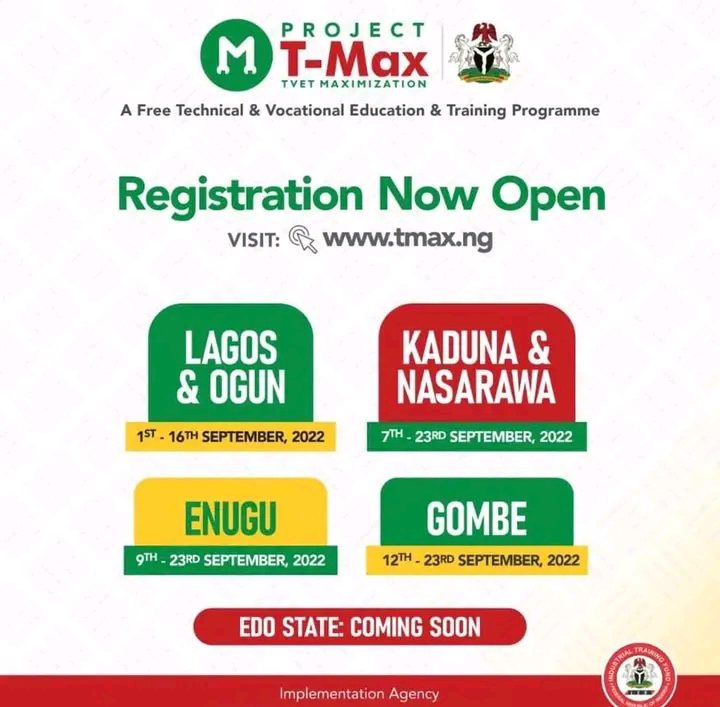 Project T-Max Training in Kaduna|Gombe|Enugu|Nasarawa Commences November 28: Project T-MAX Technical & Vocational Training Programme candidates who attended the pre-selection screening in Kaduna, Nasarawa, Gombe and Enugu States should be checking their emails and text messages as the training is going to commence on the 28th of November, 2022.
The final list of selected candidates will be release any moment from now, and successful selected candidates with Email/SMS confirmation text should visit their various centers for registration and biometric capturing between Wednesday 23rd to Friday 25th November, 2022.
And after the registration and biometric capturing, participants would commence their training from 28th of November, 2022.
Participants should note that only 2,000 candidates will be selected from each state that will run the Project T-Max Programme.
Meaning of T-Max: Technical, Industrial, Vocational and Entrepreneurship Training (TIVET) Maximization.
The pilot phase of the project aims to equip 15,000 individuals with skills across 7-States; Lagos, Ogun, Edo, Enugu, Kaduna, Nasarawa & Gombe, from August till December 2022.
At the End of Programme:
All successful participants will be issued Certificates of Proficiency.
A selected number of successful participants will be placed in 3-month internships with private and public sector organizations.
Starter packs will be given to participants who fulfil the necessary requirements – as we have limited numbers.
Project T-Max Portal:
Read Also: Project T-MAX Invites Candidates for Screening in Kaduna, Nasarawa, Gombe & Enugu States