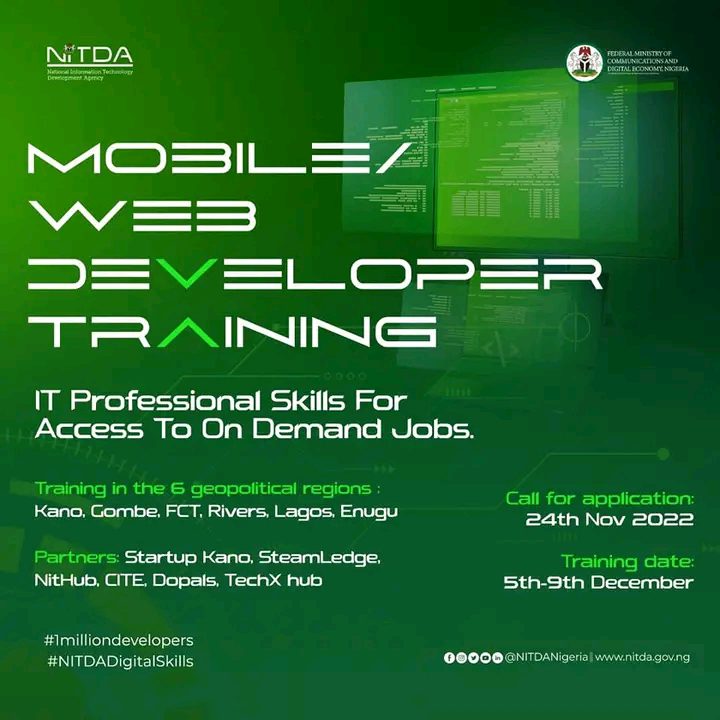 Link to Apply for NITDA Mobile Web Development Training 2022:National Information Technology Development Agency wishes to call for applications from young Nigerians who are interested in learning mobile and web application development to build IT professional Skills from Kano, Gombe, FCT, Lagos, Rivers and Enugu.
This is according to NITDA's strategic vision for development of digital skills, digital innovation and entrepreneurship, and promotion of indigenous content, towards achieving a digital economy for Nigeria.
NITDA APPLICATION FOR MOBILE WEB DEVELOPER TRAINING
IT Professional skills for access to on
demand jobs in Rivers, Kano, Gombe, FCT, Lagos and Enugu.
Training Date: 5th – 9th December
1. Gombe link:
http://bit.ly/NITDADeveloperGombe
2. Kano link:
http://bit.ly/NITDADeveloperKano
3. FCT link:
http://bit.ly/NITDADeveloperAbuja
4. Rivers link:
http://bit.ly/NITDADeveloperRivers
5. Enugu link:
http://bit.ly/NITDADeveloperEnugu
6. Lagos link:
http://bit.ly/NITDADeveloperLagos
NITDA Website:
Read Also: Shehu Idris Institute of Health Makarfi Names of Candidates for Merit Based Scholarship 2022