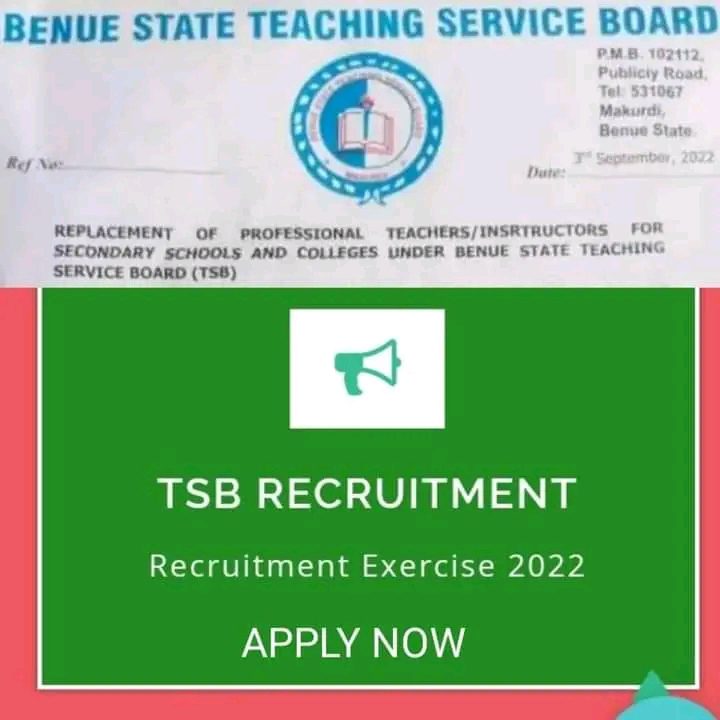 Benue State TSB Recruitment of Teachers 2022: Sequel to the approval of One Thousand, Five Hundred (1,500) replacement of teachers at Benue State Teaching Service Board (TSB) by the State Executive Council, Tuesday, 16th August, 2022, the Benue State TSB in collaboration with the Ministry of Education announces recruitment of qualified Teachers/Instructors for secondary schools and colleges under the Board in the following specialized areas:
1. Mathematics
2. Chemistry
3. Physics
4. Biology
5. English Language & Literature
6. ICT
7. Physical & Health Education
8. Basic Science
9. History
10. Economics
11. Geography
12. Fine Arts
13. Tiv & Idoma Languages
REQUIREMENTS
Qualified and interested applicants who MUST be holders of NCE, Bachelor of Education (B.Ed) and Bachelor of Science (B.Sc) in relevant specialized fields.
NOTE: Applicants with Teachers Registration Council of Nigeria (TRCN) will be on advantage.
HOW TO APPLY
Qualified and interested applicants can submit their applications through Benue State TSB Portal below:
OR
Benue State Ministry of Education Website:
APPLICATION CLOSING DATE:
19th September, 2022
Signed:
DR. FRANK KYUNGUN
Executive Secretary, TSB