FUHSI Orangun Cut Off Mark & Post UTME 2022/2023: This is to inform prospective candidates that the Management of the Federal University of Health Sciences, Ila-Orangun, has approved cut-off marks for 2022/2023 admission into the University as indicated below: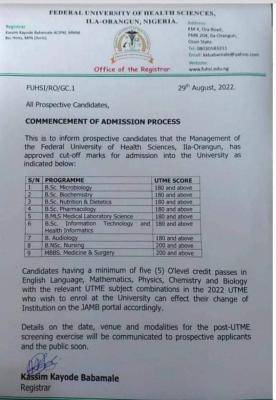 FUHSI Orangun Courses and Cut Off Mark 2022/2023
B.Sc. Microbiology – 180 and Above
B.Sc. Biochemistry – 180 and Above
B.Sc. Nutrition & Dietetics – 180 and Above
B.Sc. Pharmacology – 180 and Above
B.MLS Medical Laboratory Science – 180 and Above
B.Sc. Information Technology and Health Informatics – 180 and Above
B. Audiology – 180 and Above
B.NS. Nursing – 200 and Above
MBBS, Medicine and Surgery – 200 and Above
READ ALSO: Federal University of Health Sciences Ila-Orangun Courses & Admission Form
READ ALSO: College of Nursing Sciences Iyienu Admission List 2022/2023
FUHSI Orangun Admission Requirements 2022/2023
Candidates having a minimum of five (5) O'level credit passes in English Language, Mathematics, Physics, Chemistry and Biology with the relevant UTME subject combinations in the 2022 UTME who wish to enrol at the University can effect their change of institution on the JAMB portal accordingly.
FUHSI Website:
FUHSI Orangun Post UTME Schedule 2022/2023
Federal University of Health Sciences, Ila-Orangun hereby invites all candidates who have chosen the University as their first choice institution and scored a minimum of 180 in the 2022 UTME to visit the University website and click on the admission portal to register for the post-UTME screening exercises.
FUHSI Post UTME Registration will commence on THURSDAY, 1ST DECEMBER, 2022 and THURSDAY, 15TH DECEMBER, 2022.
How to Register for Federal University of Health Sciences, Ila-Orangun Post UTME 2022/2023
To register for the 2022/2023 Post UTME, follow the steps below:
1. Visit FUHSI Ila Orangun website or FUHSI Ila Orangun Post UTME Portal at:
https://admissions.fuhsi.edu.ng/applicant/login
or
2. Login using your UTME Number and UTME Score
3. Update your contact details for generating Remita payment.
4. Remita Retrieval Reference (RRR) will automatically be generated for you
5. You can pay in any of Remita's payment options. Clicking "Pay Now" to open the payment dialog, OR click on "Generate Payment Schedule" to generate, download and print a payment schedule that contains all the necessary information to make at a Bank or Remita website.
6. After successful payment, you can update your UTME details
7. After successful payment, you can upload your passport-sized photograph
8. Update your O' level examinations, maximum of 2-sittings
9. Upload electronic copies of your O' level results and UTME result slip. Please note that the Joint Admission and Matriculation Board (JAMB) has indicated that it would not clear any shortlisted candidate who does not have O' Level results. All candidates, therefore, are advised to visit any JAMB offices or accredited CBT centre nearest to them to upload their O'Level results.
10. Generate, download/print the acknowledgement slip to complete your registration
Important information to prospective candidate on mode of POST UTME examination
The examination will be done online, on a dedicated link which shall be provided on the university website fuhsi.edu.ng only.
The examination will take place on 19th December, 2022 between 9am and 4pm. The link to the examination will be made available on the University website on 18th December, 2022.
Candidate can only login once, as such, only one session will be allowed. You are therefore advised to login only when you are ready to take the exam. The environment must be quiet, serene and private, as noise, interference, external movements log out a candidate thereby disqualifying such candidate.
You must use a webcam enabled computer as the algorithm compares your passport with the video recorded.
Ensure your internet is stable and strong throughout the period of the examination.
Your uploaded passport will be used as the official passport throughout your stay in the university.
For the enquiries, please contact helpdesk@fuhsi.edu.ng
Signed
Kassim Kayode Babamale
Registrar
FUHSI Portal: