KGSCNM Obangede Batch B Admission Form 2022/2023 is currently on sale from 8th August to 9th September 2022 via Kogi State College of Nursing and Midwifery Website at https://www.kgscnmobangede edu ng/.
Kogi State College of Nursing and Midwifery Obangede has commenced sales of entrance examination form into her Nursing program for 2022 Batch A Academic Session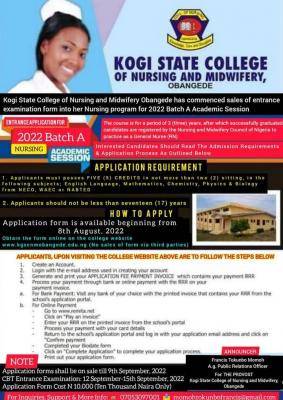 ENTRANCE APPLICATION FOR BASIC NURSING 
The course is for a period of 3 (three) years, after which successfully graduated candidates are registered by the Nursing and Midwifery Council of Nigeria to practice as a General Nurse (RN)
ADMISSION REQUIREMENTS FOR ADMISSION INTO KGSCNM OBANGEDE BATCH B 2022/2023
1. Applicants must posses FIVE (5) CREDITS in not more than two (2) sitting, in the following subjects: English Language, Mathematics, Chemistry, Physics & Biology from NECO, WAEC or NABTED
2. Applicants should not be less than seventeen (17) years
3. Application Form Cost N 10,000 (Ten Thousand Naira Only)
HOW TO APPLY
Application form is available beginning from 8th August, 2022.
Obtain the form online on the Kogi State School of Nursing Obangede portal/website below (No sales of form via third parties)
 https://www.kgscnmobangede.edu.ng/ 
OR
https://apply.kgscnmobangede.edu.ng/
APPLICANTS, UPON VISITING THE COLLEGE WEBSITE ABOVE ARE TO FOLLOW THE STEPS BELOW:
1. Create an Account.
2. 3. Login with the e-mail address used in creating your account Generate and print your APPLICATION FEE PAYMENT INVOICE which contains your payment RRR payment invoice.
4. Process your payment through bank or online payment with the RRR on your
a. For Bank Payment: Visit any bank of your choice with the printed invoice that contains your RRR school's application portal.
b. For Online Payment Go www.remita.net Click on "Pay an invoice
5. Enter your RRR on the printed invoice from the school's portal Process your payment with your card details.
6. Return to the school's application portal and log in with your application email address and click on "Confirm payment.
7. Completed your Bio-data form.
8. Click on "Complete Application" to complete your application process Print out your application form
APPLICATION CLOSING DATE
Application forms shall be on sale till 9th September, 2022
KGSCNM OBANGEDE BATCH B ADMISSION ENTRANCE EXAMS 2022/2023
CBT Entrance Examination: 12th September-15th September, 2022
ANNOUNCER
Francis Tokunbo Momoh A.g. Public Relations Officer For THE PROVOST Kogi State College of Nursing and Midwifery. Obangede
For Inquiries, Support & More Info: 07053097001 momohtokunbofrancis@gmail.com