Npower news: N-power Management under Ministry of Humanitarian Affairs has onboarded and deployed the Batch C Stream 1 Npower volunteers to their Primary Place of Assignment (PPA) on the 23rd and 27th August 2021 respectively, Under Npower Batch C Stream I, 510,000 beneficiaries were onboarded, 450,000 graduates and 60,000 non-graduates beneficiaries.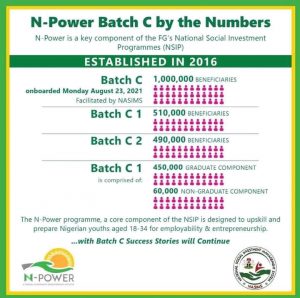 Duration of Npower is one year for N-teach and N-Health and 6 Months for N-agro volunteers. Beneficiaries will be receiving a monthly stipend of 30,000 naira.
Npower Batch C Stream 2 Latest News Today
Now that the Batch C Stream 1 recruitment/enrollment is done, All attention is on enrollment and onboarding of Batch C Stream 2 applicants as the Npower management has started activating the CHANGE OF PROGRAMME page on the NASIMS npower login dashboard of each shortlisted candidates waiting for stream 2 list.
So, shortlisted candidates waiting for Batch C stream 2 are to login to NASIMS portal to update their change of Npower programme suitable to their local government.
Npower created the change of programme to suit each local government what they lack or need in terms of manpower or workforce. Some local governments needs more Teachers, some Agricultural extension workers while some Health workers, vise-versa.
HOW TO CHANGE N-POWER PROGRAMME (N-TEACH, N-AGRO, N-HEALTH)
Below are the guidelines on how to activate Npower change of programmes to have a chance of being selected for the Batch C stream 2 programme.
Visit Nasims portal npower login below;
Login using your email address or Npower ID.
After login successfully, you will see a CHANGE OF PROGRAMME Icon, click "choose a new programme for your deployment" and change to programme available to your local government of indigen or residence.
That is all.
NOTE: Currently, not all applicants have the change of programme page as they are updating the page gradually.
COMMENT BELOW FOR ANY CLARIFICATION