As N-power Management under the Ministry of Humanitarian Affairs Launched National Social Investment Management System (NASIM) today, the management has instructed Batch C applicants to visit the portal and update their details on the new portal.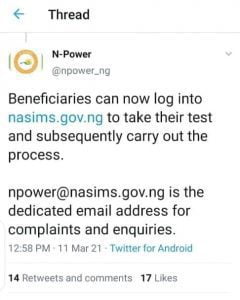 Beneficiaries can now log into http://nasims.gov.ng to take their test and subsequently carry out the process.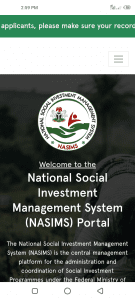 npower@nasims.gov.ng is the dedicated email address for complaints and enquiries.
The Ministry has taken stringent steps to ensure that the registration and verification as well as the onboarding process will be carried out online and on a centralized system.
How to Update Records on NASIMS Portal for N-power Batch C Applicants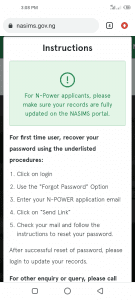 For first time user, recover your password using the underlisted procedures:
Visit http://nasims.gov.ng
Click on login
Use the "Forgot Password" Option
Enter your N-POWER application email
Click on "Send Link"
Check your mail and follow the instructions to reset your password.
After successful reset of password, please login to update your records.
For other enquiry or query, please call 018885011 or 08176551162 or send a message to support.npower@nasims.gov.ng